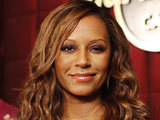 Former Australian
X Factor
contestant Tyla Bertolli has revealed that she felt let down when her mentor
Mel B
eliminated her from the competition.
Tyla Bertolli, who made the
top twelve contestants
in the reality TV show but was then forced into the bottom two with rival Jacqui Newland, said that it "sucks" that her Spice Girl mentor chose between her two protegées rather than refusing to like judges in the past.
Bertolli told
The Daily Telegraph
: "It really kind of sucks. I was absolutely heartbroken when Mel made the call instead of choosing the public vote and I'm going to feel in my heart for a long time that it could have gone the other way.
"I truly believe I didn't deserve to go - but I don't think Jacqui deserved to go either. Maybe Mel B thinks she can do more with Jacqui as the show goes on than me. But I know I had so much more to reveal and give if I'd been given the chance."
Bertolli added: "As I said, it sucks, but Mel B is the type of person who is going to want to keep control and not let others make up her mind for her - so I have to accept that."
The 19-year-old described her time on the show as "still the best experience" of her life, but added: "Now I just have to get on with what happens next."
Shortly after her elimination, Bertolli revealed that Mel B told her to
"eat a burger"
after losing 12kg before the competition.
Last week was the second time that Newland has
survived an elimination
round.
> Mel B blasts fellow Aussie 'X Factor' judges
> 'The X Factor's Natalie Bassingthwaighte: 'Mel B needs a slap'
Watch Tyla Bertolli's elimination on last week's
The X Factor
below: