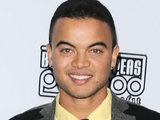 Aussie
X Factor
judge
Guy Sebastian
has slammed contestant Mitchell Callaway for his bad attitude.
The wannabe country singer, who was praised for his performance of 'Run to Paradise' in last night's live show, was left humiliated when former
Australian Idol
star Sebastian berated him for his behaviour backstage.
Sebastian said: "You've got to have the right attitude to this competition, you've got to be focused and to be honest, not be rude to people and have the work ethic.
"For you to not learn your lyrics and for you to at times be rude to crew, you really have to pull that in and rein that in because you won't last long in this competition or this industry if you do that.''
Fellow judge Natalie Bassingthwaighte, who is Callaway's mentor on the reality TV show, later labelled Sebastian's comments a "low blow".
She wrote on her
Twitter
page: "Talk about humiliating someone on national television. What a low blow. I'm devastated for Mitchell. He sang like a champion."
Callaway later quashed speculation that he could quit the show,
tweeting
: "I'm not gunna quit guys. It's not the Aussie way. I'm not gunna let al u beautiful ppl dwn. Or Natalie after everythn she's done (sic)."
> 'X Factor' Australia's Natalie Bassingthwaighte: 'I almost quit music'
> Former Aussie 'X Factor' contestant slams Mel B's singing ability
X Factor
judge Mel B recently
attacked Sebastian
and Bassingthwaighte, calling him "boring" and her so nice that she is "dishonest". Bassingthwaighte hit back, saying that the former Spice Girl
deserved "a slap"
, but more recently admitted that perhaps
she can be too nice
sometimes.
Watch Mitchell Callaway's performance on last night's
X Factor
below: