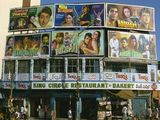 Director
Arnab Chaudhari
has said that his animated film
Arjun The Warrior Prince
contains influences from many types of cinema.
The filmmaker revealed that although the project contains elements of Japanese and US animation, he hoped the movie would create a new genre of Indian cinema.
Chaudhuri told
BollySpice
: "Miyazaki and Disney and all of these are inspirations. We are hoping with this it will create a sort of Indian anime style."
Unlike earlier Hindi animated productions such as
Toonpur Ka Superhero
and
Roadside Romeo
, Chaudhuri said that his film was not specifically targeted towards children.
"There's a big hope that this one can once and for all dispel the myth that animation equals kids' comedy," he explained.
"All the screenings we've done so far have proved that to be true because we've had audiences where there've been very few kids, like four or five kids in the auditorium.
"This auditorium full of adults are interested right until the end, which gives me a lot of hope and pride that you can hold an adult's attention with this medium over 90 minutes."
The film is based on the Indian Epic the Mahabharat, telling the legendary tale of one of its key figures, Arjun.
Arjun The Warrior Prince
is out now.
> More Bollywood news