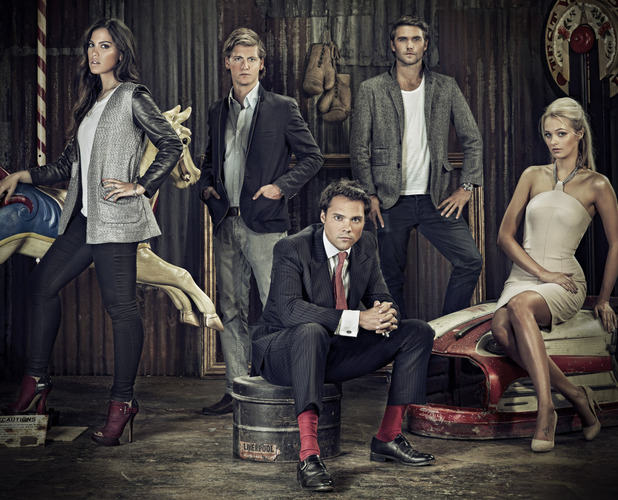 Made in Chelsea
swung back into action last night (October 15), with a new cast of pretty poshos joining the champagne-swigging, bouncy hair-swishing regulars.
Spencer Matthews's new enemy Andy Jordan, his pals Sam Cussins and Stevie Johnson, and gorgeous wannabe actress
Sophia Sassoon
are among the newbies, who
Digital Spy
caught up with last month.
Are you nervous about your private lives coming under scrutiny from the press?Andy:
"Yes. Definitely. You're always nervous. You know that you're going to get some attention, positive and negative. We all know what we're signing up for and we have to take it on the chin."
Stevie:
"You just have to back yourself as a decent person. If you are, hopefully people will see that and it will shine through."
Who is going to cause the most trouble on the show?Sophia:
"We are, all of us. We've literally come in to set fire to everyone."
Stevie:
"We'd like to have a lot of fun."
Sam:
"We've got three new single guys and with other guys on the show, there's definitely going to be some competition. Plenty of egos clashing."
Were the new cast welcoming?Andy:
"We've been pleasantly surprised."
Sophia:
"I thought the girls would be quite bitchy. But they've been lovely. However, I don't know yet what they've been saying behind my back!"
Andy:
"They don't know what we've been saying behind their backs either?"
If you could snog one of the original cast, who would it be?Andy:
"Caggie."
Stevie:
"We can all say Caggie."
Sam:
"That's such the easy option."
Stevie:
"I'd have said Caggie or Binky. That's being honest."
Sam:
"Yeah, Binky is hot."
Sophia:
"I never kiss and tell."
Boys:
"Aaaaaaaaaaaaw, come on!"
Sam:
"That's not kissing and telling, you haven't done it yet."
Sophia:
"We'll just have to wait and see. I have actually kissed one of them before. Maybe two... It's so long ago, my memory fades."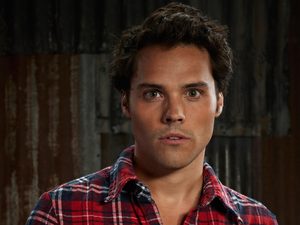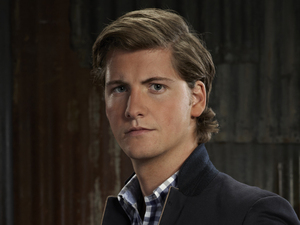 Who is the poshest out of you four?Sophia:
"Not me. Stevie? Maybe Andy."
Andy:
"I'd say Sophia?"
Stevie:
"Sophia is pretty posh."
Sam:
"I think we're all reasonably posh, but I also think we're all pretty down-to-earth."
Sophia:
"I don't really like that word posh. I don't like it as a category. We're all posh and lovely."
What jobs do you all do?Andy:
"I'm a broker. "
Stevie:
"I'm currently interviewing."
Sam:
"I work in sports marketing."
Sophia:
"I've been studying acting for two years in New York. I will still have my career over there and hopefully I can combine that with the show."
Do you not think this will damage any chance of an acting career?Sophia:
"I know that's what people think. But I will prove to them that I can act if they put me in an audition room. They will see a different side to me from what I do on this show. I see them as two very different things."
The show features lots of partying. What are your most embarrassing drunken moments?Andy:
"We've all been taken home."
Sam:
"We've all taken each other home."
Sophia:
"The worst one is when you wake up somewhere and wonder, 'How did I get here?'"
Sam:
"I think it's safe to say we've all been battered and fallen over."
Stevie:
"Thankfully none of this has happened on camera yet. We've had some big nights, but I don't think they've caught any of us pissed."
What are your worst traits?Sophia:
"I don't think I have any bad traits."
Stevie:
"I'm too willing to please everyone."
Sam:
"I'm too sarcastic all the time. I reckon that gets a bit annoying."
Andy:
"I say yes too much."
Sophia:
"You're a yes man."
Andy:
"Yes, I am."
And your best trait?Andy:
"I'm pretty loyal. I'll back all my friends up."
Stevie:
"I'm pretty honest. If I think something, I'll say it."
Sam:
"I'm always up for a good time. If anyone is up for some fun or a good time, get me in there."
Stevie:
"I'm a very good judge of character. I'm quite caring and open. And I like to have lots of fun. And I like to talk too much and annoy these other guys."
Made in Chelsea continues on Mondays at 10pm on E4