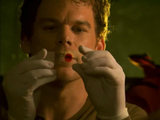 Happy June everyone! This month has gotten off to a great start thanks to the upcoming four-day weekend in celebration of
the Queen's Diamond Jubilee
(cheers, Liz).
But what will we do after the street parties and Buckingham Palace concerts are over?
Tube Talk
suggests investing in some of June's great DVD releases to make sure your spirits stay high for the rest of the month. Read on for our full rundown...
Malcolm in the Middle: The Complete First Season (June 4)Starring:
Frankie Muniz, Jane Kaczmarek, Bryan Cranston, Christopher Masterson
Rated:
12
Format:
DVD
This classic Fox comedy finally hits DVD, over 12 years since it first debuted on US TV. The show may be old, but the gags are still as fresh as ever and that theme tune is still rocking. Plus it's a chance to remind ourselves that, before he was winning Emmys as
Breaking Bad
's Walt, Bryan Cranston was hysterical as hapless dad Hal.
One Tree Hill: The Complete Ninth and Final Season (June 11)Starring:
James Lafferty, Bethany Joy Lenz, Sophia Bush, Austin Nichols
Rated:
15
Format:
DVD
The long-running soapy drama finally comes to a close after nine years, with plenty of familiar faces coming back one last time to bid farewell to Tree Hill. If you're feeling weepy, you can console yourself with the fact that a complete series box set is also out this month, meaning you can enjoy the show from beginning to end all over again.
Curb Your Enthusiasm: Complete HBO Season Eight (June 11)Starring:
Larry David, Cheryl Hines, Jeff Garlin, Susie Greene
Rated:
15
Format:
DVD
Eight seasons in and Larry David still hasn't learnt how to act like a normal person, meaning that these episodes of
Curb
are as painfully hilarious as ever. Michael J Fox,
Ricky Gervais
, Richard Lewis and Rosie O'Donnell are among the celebrities making cameos this time around, as a newly-divorced Larry relishes his single status. Be warned though - purchase this DVD and you will be humming
that
music constantly.
Dexter: The Sixth Season (June 18)Starring:
Michael C Hall, Jennifer Carpenter, Colin Hanks, Edward James Olmos
Rated:
18
Format:
DVD, Blu-ray
In the latest season of this hit US drama, Dexter (Hall) must confront not only another maniacal killer, but also his own issues of faith and an ever-more-complicated relationship with his adopted sister Deborah (Carpenter). These episodes received a mixed reaction from critics, but
Dexter
remains outlandish fun. Just don't take it too seriously. You can pre-order the season six box-set
from Amazon now
.
The Ricky Gervais Show: Season Two (June 25)Starring:
Ricky Gervais, Stephen Merchant, Karl Pilkington
Rated:
TBC
Format:
DVD
It's a second entry for Ricky Gervais in this month's DVD picks, and this time he's in animated form. It may be his name selling the show, but the star here is undoubtedly Karl Pilkington. In addition to the ever-classic segments 'Monkey News' and 'Karl's Diary', the "little round-headed buffoon" will also make your jaw drop when he discusses his kidney stones, his childhood memories of Tic Tacs and lists what he would change about crabs.
ALSO RELEASED... June 4
:
Scott & Bailey
- Series 2,
Horrible Histories
- Series 1-3,
June 11
:
Lewis
- Series 6,
Treasure Island
- The Complete Series,
Wallander
- Original Films 1-6,
June 18
:
Hustle
- Complete Series 1-8,
Lip Service
- Series 2,
Braquo
- Season 1 & 2,
June 25
:
Silk
- Series 1 & 2.
Which TV box sets will you be buying this month? Leave your comments below!