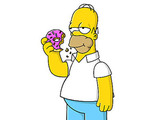 Since it's Father's Day in the UK this Sunday (June 17) we hope you've taken the time to pick up the standard gifts of socks, pants or a nice warm jumper for your old man. If you're not that organised then do not fear- you still have time! If you need inspiration then we suggest you check out our tribute to some of the greatest dads that television has ever seen!
We recognise that some of our final five's parenting techniques are slightly questionable, but that doesn't stop them from being legendary fathers.
Take at look at our list and let us know what you think!
Homer Simpson - from The Simpsons (1989-Present)
Although Homer is a Duff-swigging, doughnut-muching, pot-bellied, Bart-strangling, bumbling idiot, we definitely think he deserves a place in our top five. He may not be the perfect man but he truly loves and cares for his family and he certainly makes sure that they are never bored! Keeping his family (and us) entertained for over 400 episodes, Homer has even been praised on an international level for his paternal duties.
The Sunday Times
said: "Homer is good because, above all, he is capable of great love. When the chips are down, he always does the right thing by his children - he is never unfaithful in spite of several opportunities." He definitely has the best intentions at heart!
Burt Hummel - from Glee (2010-2012)
Burt Hummel is extremely deserving of a place on this list. He single-handedly raised son Kurt after his wife died, putting him first in everything he does. Burt may be a 'man's man', an avid football fan and skilled mechanic, but he is very serious about the love he has for his son. After Kurt reveals that he is gay, Burt supports him in any decisions he chooses to make and fights the homophobic attitude of his step-son Finn. Kurt reciprocates this love as he cares for Burt when he suffers from a heart attack. This tale of understanding, trust and friendship make Burt and Kurt one of the best father and son pairings in TV history!
Jack Gellar - from Friends (1994-2004)
Despite his obvious favouritism towards son Ross, Jack Geller is somewhat of a legendary figure between Monica and the rest of her friends. He has made a few mistakes as a parent: he used Monica's beloved keepsakes to soak up flood water in his garage and he is constantly taunting her about her childhood weight issues, but he's a pretty cool dad really. He gives Monica his Porsche to make up for ruining all her mementoes and even offers up some unusually enthusiastic advice to Monica and Chandler when he learns that they're trying for a baby! Jack is a hoot of a father, if not a little cringeworthy!
Jim Royle - from The Royle Family (1998-2010)
Arguably one of the most unhygienic men ever to grace our television screens, Jim Royle is a lazy, grumpy slob who spends his days slumped in front of his TV screen, getting his family to do everything for him. The rude patriarch exploits the good nature of his wife Barbara and often puts other members of the family down, like loyal son Antony and storytelling grandmother Norma. He also has no problem with announcing his frequent toilet habits to anyone and everyone and guffawing at his own jokes. Despite all of this pretty off-putting stuff, Jim does really care for his family and protects them from any serious trouble. He seems impossible to dislike!
Dr Heathcliff Huxtable - from The Cosby Show (1984-1992)
'Cliff' Huxtable is one of the wisest, funniest and fairest dads on TV. His behaviour is very silly and eccentric when around his family but he really cares for them and ultimately knows how to raise them with ample measures of both firmness and fun. He is always joking with wife Clair that they're itching for their older children to move out when in actual fact the family are as thick as thieves. Cliff is so dedicated to the children that he and his wife have raised, he even inspires them to dress vibrantly with his set of eye-popping jumpers. Cliff has all the features to be a great dad!
Who do you think is TV's greatest dad? Let us know below!