Adrian Chiles's sour frown. Dan Lobb and Kate Garraway serving up a medicine for insomniacs. Bill Turnbull naffed off that he's stuck with a Salford Spar rather than a Notting Hill boulangerie. Repeats of naff US sitcoms.
Breakfast TV wasn't always this terrible. Breakfast TV used to be the most vibrant, irreverent and cutting edge area of broadcasting. That was down to one show:
The Big Breakfast
.
The Big Breakfast: Originally broadcast from September 28, 1992 to March 29, 2002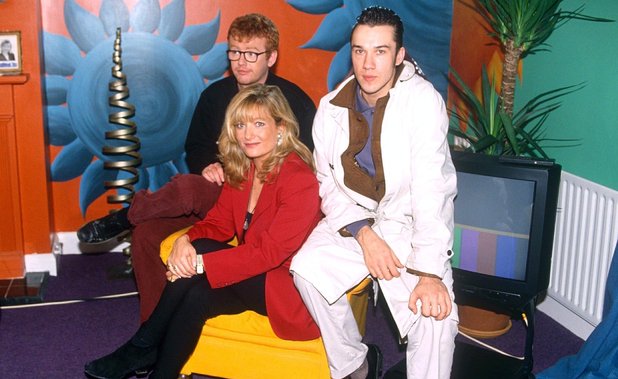 Lock Keepers' Cottages proved to be the destination of choice for millions of telly lovers throughout the '90s. Despite endless format changes and a rolling door of presenters across its decade on air, there was no better place to be pre-school or work than with a big bowl of cereal and the TV glued to Channel 4.
We were welcomed into the cosy home with hosts that felt like family - everyone from the camera crew to the sound team (Sturdy Girl! Carpet Monster!) were recognised and loved - and a rough and ready style that was suited to the early hours of the day when we were still rubbing our eyes and nursing our hangovers.
Throughout every era,
The Big Breakfast
was a show that could be watched by all the family.
Chris Evans
and Johnny Vaughan knew how to bring some cheek and sauciness to TV, but it was never awkward or overly-bawdy.
Chris Evans and Gaby Roslin host 'One Lump or Two'!
Cheggers was knocking on doors. There was a telly set in the corner with a newsreader inside it. There were endless ludicrous games that every 12-year-old child longed to play. There was Zig and Zag. There were families welcomed into the kitchen for a bowl of cornflakes with Gaby Roslin. Put simply, it was fun.
Your favourite era of
Big Breakfast
will probably depend on your age. If you're a little older, the show's first wave of success with Evans, Roslin, Paula Yates, Mark Lamarr and Peter Smith on newsreader duties probably pushes your nostalgia buttons.
If you're a little older, you may have fallen in love with Johnny & Denise and the legendary Phil Gayle. If you think of Rick Adams, Sharron Davies, Paul Tonkinson or Mike McClean then frankly you're mad.
A dodgy Big Breakfast relaunch in 1996:
But even at its very worst, there was always a charm to
The Big Breakfast
. It was only when Channel 4 ditched the show altogether, replacing it with the frankly laughable and distasteful
RI:SE
that it became clear what a brilliant format it was.
Shaky cameras, amateurish presenters knocking on doors, alien puppets doing slots in bathrooms. It shouldn't have worked - it sounds awful writing it even now - but breakfast TV is ridiculously worse off and, for anyone looking for quality entertainment, essentially dead in 2012.
Johnny & Denise with some classic More Tea Vicar and Gaggin' For It:
Channel 4 looks unlikely to ever revive the show. The advertising money isn't in breakfast telly and big wigs will talk endlessly about smaller audiences because of the expansion of telly channels in recent years. All a load of tosh of course - if the
Big Breakfast
was on now and of the same quality of its golden era it would draw sizeable ratings - but there's no convincing some people.
So instead, we're left with grainy YouTube clips of the Pun Down, old VHS tapes of Vital Statistics and fuzzy memories of One Lump or Two?. Frankly, you can stick your
Daybreak
where the sun don't shine. Nothing ever has, or probably ever will, compare to
The Big Breakfast
.
What are your favourite Big Breakfast memories? Share your views below!