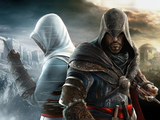 Assassin's Creed Revelations
has been given a launch trailer.
The clip details Ezio's third and final adventure as he looks for answers to the many secrets left behind by Altair.
It also reveals the several new environments, chase sequences and fighting moves that will appear in the game.
The campaign will see a new
Den Defence mini-game mode
that plays out when defending the city.
Last week, the
latest multiplayer trailer
revealed many of the new tools that will be available to players online.
Assassin's Creed: Revelations
will be released for PS3, Xbox 360 and PC on November 15 worldwide.
> Assassin's Creed: Revelations multiplayer preview
> Assassin's Creed: Revelations hands-on campaign preview
Watch the
Assassin's Creed: Revelations
launch trailer below: