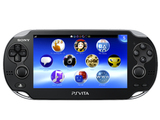 Sony
has removed the PlayStation Vita Facebook app from the PSN store.
The app has been unable to connect users to their Facebook page, returning an error code NP-13144-3.
"The Vita Facebook application has been removed from the store," a Sony representative said.
"It will be republished once the difficulties Facebook have experienced have been resolved. Currently there is no timescale for this."
The Vita Facebook app launched Wednesday, February 22, alongside the system and worked for much of the day.
Complaints of failed connections and error messages began Thursday before Sony removed the app today.
> PS Vita launch guide: All you need to know about the new PlayStation
> PlayStation Vita out now: London launch in pictures
> PS Vita to generate $2.2bn in hardware sales this year