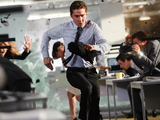 Shia LaBeouf
has admitted that he no longer wants the leading role in the franchise
Transformers
.
The first film saw him playing high school student Sam Witwicky, who is now seeking a job in the adult world, in the third movie
Dark of the Moon
.
LaBeouf told
MTV News
: "I just don't think right now there's anywhere to take Sam."
He added that he was keen to work again on another unrelated project with
Transformers
director Michael Bay again, describing himself as "raised" by the action helmer.
Watch our
Transformers
interview with Rosie Huntington-Whiteley and Michael Bay below:
However, LaBeouf recently said that he
is keen on departing from the genre of films he has made his name in, in order to take on different roles
.
The 25-year-old actor recently expressed his belief that
the departure of Megan Fox's character Mikaela Barnes from the franchise has allowed his own character to develop
, saying that Barnes and Witwicky had effectively "became one character" and "there was no room for Sam to be heroic".
Watch a trailer for
Transformers: Dark of the Moon
below: