0
Movies News
Matthew McConaughey, John Cusack star in 'The Paperboy' clip - watch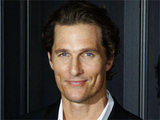 A clip starring
Matthew McConaughey
and John Cusack in the new Lee Daniels drama
The Paperboy
has been released.
The film is an adaptation of the novel written by Peter Dexter. It tells the story of a man named Ward James (McConaughey) who returns to his hometown to investigate the recent murder of a local sheriff, and the possible innocence of the man convicted of the crime.
Zac Efron stars as McConaughey's younger brother Jack, while Cusack plays the man condemned to death row.
Nicole Kidman also has a role as the girlfriend of Cusack's convict character, who Efron's character later falls in love with.
The 24-year-old actor recently described working with Kidman as "everything [I] dreamed of".
The Paperboy
is set to debut at the Cannes Film Festival.
Watch John Cusack and Matthew McConaughey in the clip released by
Ropes of Silicon
below: