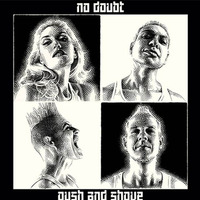 The pop landscape has changed dramatically in the 11 years since
No Doubt
's last studio LP
Rock Steady
. Aside from the obvious shift from physicals to downloads, the band now also have to tackle the flurry of super producer-led records as well as sales being at an all time low. Hardly the most encouraging news for a group who are traditionally seen as a self-making albums act.
That they've largely stuck to their guns on
Push and Shove
was a risk, but the results pay off in spades. Aside from the bonkers title track
'Push and Shove'
which shares a credit with trendy knob-twiddling outfit Major Lazer, the band have re-hired
Rock Steady
's exec producer Mark 'Spike' Stent; creating a picking-up-where-they-left-off atmosphere that fortunately feels timeless rather than old-fashioned.
Take lead single
'Settle Down'
; its merging of ska and punk with a sprinkling of reggae over Gwen Stefani's distinctive pop vocal is as much of a welcome anomaly as it was 20 years ago, while the light 'n' bouncy
'Sparkle'
and head-nodder
'Easy'
feel like a lost relics that have been dusted down and polished up from 1995's seminal
Tragic Kingdom
.
That's not to say they're solely relying on past glories.
'Gravity'
and future single
'Looking Hot'
are both packed with modern pop flourishes, hummable melodies and classic-feeling lyrics ("Just like Venus in the morning sun, you and me got gravity"), and
'Undone'
stands on its own as a lighter-waving singalong stadium ballad for 2012. The result is a modest comeback that at times plays it safe, but the sound remains unmistakably No Doubt.

Tracks to download:
'Push and Shove', 'Looking Hot', 'Gravity', 'Undone'
If you like this, you'll like:
Gwen Stefani, Garbage, Nelly Furtado
Listen to
Push and Shove
below: