Since New York quartet
Scissor Sisters
arrived on the scene in 2004 with 'Laura', their unique cabaret-disco sound has earned them three successful albums and a string of classic hits to their name.
With their fourth LP
Magic Hour
out this week, we sat down for a spot of lunch with Babydaddy and Del Marquis to talk about the LP, One Direction and who they'd like to collaborate with in the future.
What's that you're drinking, Babydaddy?Babydaddy:
"It's an iced americano. We've got a personal trainer who's really against us drinking milk."
Del Marquis:
"Also we're Jewish. Also, did you know that milk raises your estrogen levels? We don't want man boobs."
Your new album Magic Hour sounds like it was fun to make. Was it?Babydaddy:
"It was very fun to make! We're proud of that fact - we're glad you feel the same. We didn't want to overthink it and just try a bunch of new things."
It's a bit all over the place, and mostly in a good way.Babydaddy:
"I think that's what Scissor Sisters is about. Our first album - in some of the worst reviews - said it was a confusing mish-mash of sounds. I think that's what makes us exciting."
Del:
"It's funny appraising reviews from ten years [ago]. People have such a different perspective on our first record than they did back in the day. We like to think everyone will catch up eventually. We're like the new Hall & Oates."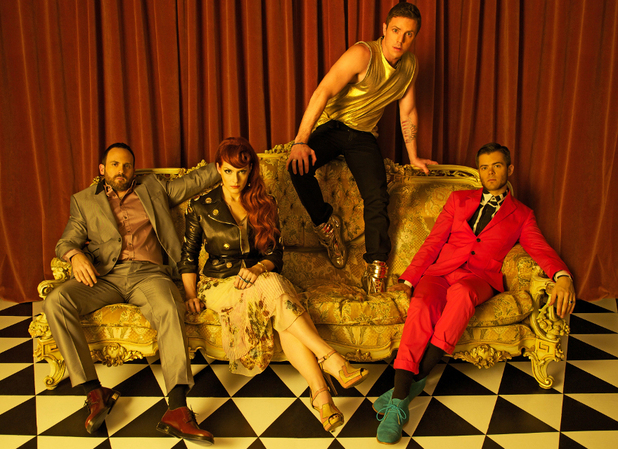 There's some very classic Scissor Sisters-sounding songs on there - like your new single 'Baby Come Home' - as well as newer sounds.Babydaddy:
"What we thought was important was to make sure we referenced the sound that people know us for, but trying out new things has always been an important thing for us. It needed to be that mix of old and new."
Your latest single 'Only The Horses' charted at number 12. Do you still keep an eye on the singles chart?Del:
"We definitely still keep an eye on how are singles are charting. They definitely mean something, but not the same thing that they used to. The numbers are a lot more spread out then they used to be. Our shows are now nearly always full, which feels like success for us. It's nice not to depend on the charts, but we're a pop band so we care about them."
We saw Harry Styles visited you while you were shooting the music video...Babydaddy:
"He's a friend of a friend who brought him along to the shoot. We've hung out a couple of times. He's a lovely guy but honestly, I couldn't sing a word of a One Direction song."
Del:
"I didn't even know who he was!"
Babydaddy:
"He's just a friend! It's British pop and they've kind of exploded everywhere. It wasn't made for us. A lot of girls were telling us to get our gay paws off him. There were some gay rumors around which was funny. I mean, in a boyband, the odds are pretty strong..."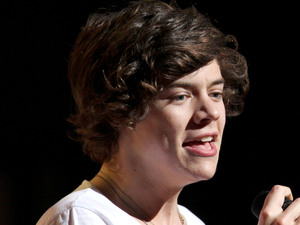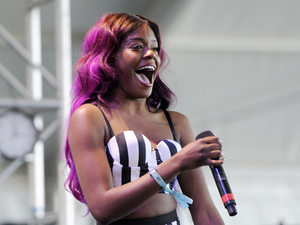 You worked with Azealia Banks on 'Shady Love'; what is she like?Babydaddy:
"She's a force to be reckoned with. We've known her for a few years because we have the same managers. She's smart, sassy and she's a troublemaker. She's also very talented."
Is there anyone else you'd like to work with?Babydaddy:
"All our collaborations have happened in the moment or for a good reason. We needed a great voice on 'Invisible Light' and Sir Ian McKellen was perfect and he agreed to it. I'd like to maybe do something with Cher. She's incredible. Oh look, our lunch is here."
That's a very healthy looking salad you're both having.Del:
"Look at this wafer-thin slice of bread! How depressing is that?"
What do you make of the charts these days? They're very different from when you broke through in 2004.Babydaddy:
"They're so fickle. We're not going to adjust what we do to what's relative on the charts. Even making 'Only The Horses' with Calvin Harris came about because Jake (Shears) had already worked with him in the past. When we first started the charts were crucial for us, because it was important that we got ourselves out there."
So working with Calvin Harris just as he became huge was a coincidence?Babydaddy:
"I wouldn't say it was a complete coincidence. Jake loves big, dancey pop music and they had a history, so they made something. We co-produced everything ourselves to make sure it still sounds like us."
You performed on the The Voice recently...Del:
"
The Voice
was great. We were just in and out of there. That's the wrong answer! Shows like
The Voice
aren't necessarily for us, but we understand the culture that exists at the moment, and it's a great vehicle for promotion. We felt honoured to be asked."
There's a lot of focus on new acts but not a lot of space for people with established careers.Del:
"We understand how it feels to be flavour of the month and have people write about you on blogs and magazines when you're the new exciting thing. That's obviously not going to last, but it's a shame that there are so few outlets once you reach a certain point in your career."
Babydaddy:
"Didn't we ask for a chicken caesar salad?"
Del:
"Yeah, where is our chicken? Sorry, you must think we're the most annoying people to have lunch with ever!"
Scissor Sisters' new album Magic Hour is out now. Watch the 'Baby Come Home' music video below: