Music News
Duran Duran unveil LP, release single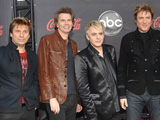 Duran Duran
have unveiled the details of their 13th studio album and released their new single one week early.
'All You Need Is Now', the title track from the band's upcoming Mark Ronson-produced LP, was made available as a digital release yesterday exclusively on iTunes.
Speaking about the album, Simon Le Bon said: "One of the things I like about this record is that it's unselfconsciously pop, it's catchy without trying to be.
"To me, this sounds like an alternative album - and that's what we were successful for in the first place. Mark just said, 'Relax, and you'll find it'."
Nick Rhodes added of Ronson's contribution: "He revitalised us. He found an energy in us that hasn't been there for a long time.
"Inspiration is one of the great mysteries of the world, of course, but if you have with you someone you trust, who has huge musical knowledge across so many genres, who is a fan of your band and knows all of the songs - that can only be helpful."
The full tracklisting of the digital
All You Need Is Now
LP, which is released on December 21, is as follows:
1.
'All You Need Is Now'
2.
'Blame The Machines'
3.
'Being Followed'
4.
'Leave a Light on'
5.
'Safe (in the heat of the moment) (feat. Ana Matronic)'
6.
'Girl Panic!'
7.
'The Man who Stole a Leopard (feat. Kelis)'
8.
'Runway Runaway'
9.
'Before the Rain'