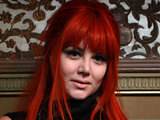 Vanessa Amarosi
has revealed that she has "come of age".
The 29-year-old Australian singer, who is best known for hit singles such as 'Absolutely Everybody' and 'Mr Mysterious', said that she feels she has finally made the transition from a pop princess to a queen.
Amarosi told
The Daily Telegraph
: "I really think I have come of age as a writer and a performer and I feel more comfortable than ever in my own skin. It's amazing how this whole album came so easy and naturally."
The musician also revealed that her latest record was influenced by the fans who have supported her since she began her music career as a teenager.
Amarosi is scheduled to release her new single 'Gossip' today via a viral campaign on her
GossipBomb
website. She will not release the track until 15,000 fans join the site.
In the past 11 years, Amarosi has consistently featured in the top 10 Australian music charts with songs such as
'Mr Mysterious'
,
'This is Who I Am'
and
'Perfect'
.
Watch Vanessa Amarosi's 1999 video for 'Absolutely Everybody' below: