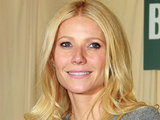 Gwyneth Paltrow has revealed that she seeks music advice from her good friend Beyoncé.
The actress told
Elle
that Beyoncé not only offered her support before
her performance with Cee Lo Green at the 2011 Grammy Awards
, but also encouraged the actress to record her own album.
Paltrow recalled: "This story always makes me cry… It's 10 in the morning and Beyoncé schleps it all the way down to the Staples Centre to watch [me rehearse for the Grammys]. I mean, she's Beyoncé!
"Beyoncé's like, 'Okay. The singing is great. But you're not having any fun.' She's like, 'Remember when we're at Jay's concert and Panjabi MC comes on and you do your crazy Indian dance? Do that. Be you!'"
Paltrow also said that Beyoncé has been supportive in encouraging her to take a possible career in music seriously, adding: "Beyoncé and Jay[-Z], they think that I should just go do it by myself. That I should go... in a studio and see what happens. And if it's good, do it. And if it's not, don't. So that's probably what I'll do."
The
Glee
guest star recently revealed that
she refuses to ask husband and Coldplay frontman Chris Martin for musical advice
.
> Gwyneth Paltrow wants Jay-Z duet
> Gwyneth Paltrow "surprised" by musical success
Watch
Gwyneth Paltrow performing 'Forget You' on Glee
below: