22
Music Review
Sugababes: 'No Can Do'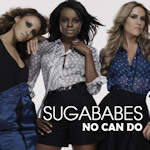 There was a time when
Sugababes
were at the forefront of their genre - with their fresh, edgy sound and no-nonsense attitude, they were hailed by critics as a welcome antidote to the production line girl groups of the early noughties. Six albums down the line and after the
"flop"
of
Catfights and Spotlights
, that edge seems to have been blunted.
Accompanied by a rather shameless video, second single 'No Can Do' is a relatively funky, Jackson 5-esque pop number that's certainly an improvement from the naggingly annoying
'Girls'
. However, in comparison to the majority of the group's singles, it's a half-hearted, bland and middle of the road offering that lacks the excitement of Sugababes at their best. At this stage the group would be best advised to take some time off before returning with the high-calibre pop on which they built their reputation.

> Click here to read our review of Catfights and Spotlights