21
Music Review
Rihanna: 'Talk That Talk' - Album review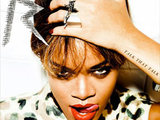 When your album release schedule is as hectic as
Rihanna
's (six in six years, to be precise), most artists risk over-selling themselves to the point where even your nan is fed up of their ubiquity. While many would argue that exposure is in fact her art, you wouldn't be blamed for thinking that
Talk That Talk
is perhaps one RiRi album we could all do without for now.
That said, such feelings simply melt away after hearing
'We Found Love'
, the LP's wistful but relentless trailer. Produced by resident Scot DJ and part-time singer Calvin Harris, its touching lyrics about falling in love when you least expect it are what sets it strides apart from the plethora of generic club thumpers about the charts today. Better yet, the pair ramp up the formula a few notches further for immediate standout 'Where Have You Been'.
Thankfully, it's about as high as the BPM gets here. Opener and future single 'You Da One' is a vibrant midtempo number smothered in Caribbean spices and playground hooks ("My love is my love/ Your love is mine"), the title track sees her cooing label boss Jay-Z over a booty-bouncing riff that doffs its cap to 'Rude Boy', while the stormy 'Drunk On Love' reworks xx's 'Intro' with heart-tugging effects.
There's not nearly as much romp as is being purported, perhaps because she carries the LP's most explicit moments off with ease. "Suck my cockiness/ Lick my persuasion," she calls on 'Cockiness', before insisting: "I wanna f**k you right now" on clunky and aggressive "interlude" 'Birthday Cake'. Regardless, anyone questioning her motives need only hear ballads 'Farewell' and 'Fool in Love' to find out not only does she have a heart, but she's without doubt been putting all of it into these past six years.

Tracks to download:
'We Found Love', 'You Da One', 'Where Have You Been', 'Drunk on Love', 'Farewell'
If you like this, you'll like
: Beyonce, Nicole Scherzinger, Kelly Rowland
Watch the 'We Found Love' music video below: