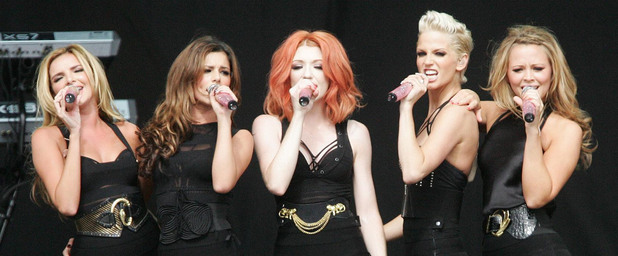 After months of teasing fans of their comeback,
Girls Aloud
have
finally confirmed they will return
to celebrate their tenth anniversary next month.
One of the (many) things we hope to be getting is a new, fully comprehensive greatest hits album that includes all 20 of their top ten singles (don't get us started on 'Untouchable').
Ahead of their official announcement later this month, we've listed our ten favourite Girls Aloud singles below:
'No Good Advice' (released 2003. Chart peak: No. 2)
The follow-up to their debut single is often an overlooked gem in their back catalogue. Yes, the tin foil outfits in the video look a little dated, but as a big 'f**k you!' anthem, it's still up there with their best.
RC
'Sexy! No No No' (released 2007. Chart peak: No.5)
After reminding everyone of their brilliance with a successful
Greatest Hits
release, the girls needed to shake things up. 'Sexy! No No No' is a thumping electro riot that introduced us to Girls Aloud's new-found "d-d-dirty style" and we loved it.
LC
The Promise (released 2008. Chart peak: No. 1)
Dance beats were replaced by brass and a vintage melody, showing the more romantic side of the five-piece. The track also bagged the girls their very first and long-awaited Brit Award in 2009.
LC
'Something Kinda Ooooh' (released 2006. Chart peak: No. 3)
It's the electro-pop stomper that headed their first ever
Greatest Hits
collection and made the public realise just how much of a brilliant pop act they really are.
LC
'Biology' (released 2005. Chart peak: No. 4)
The girls' second single from their
Chemistry
album was a major turning point for them, earning widespread praise for honing the intelligent and credible pop market with its unusual structure and quirky lyrics. Fortunately, it didn't affect its chart placing, becoming their tenth top ten single.
RC
'Sound of the Underground' (released 2002. Chart peak: No.1)
Released off the back of
Popstars: The Rivals
, 'Sound' easily remains one of the best winners singles ever. It claimed the top spot at Christmas (despite not being very Christmassy) and its fierce attitude was a welcome twist against the dated girlbands at the time.
RC
'The Show' (released 2004. Chart peak: No. 2)
'The Show' was the moment the cheeky side to the girls' personalities really started to shine through. Seductive vocals, raunchy lyrics and hip-shaking beats made it their most risqué cut at the time. We're still waiting for the official Curls Allowed salon to open though.
LC
'Call The Shots' (released 2007. Chart peak: No. 3)
Girls Aloud didn't exactly have the best record when it came to ballads, but the soothing beats and wistful synths of 'Call The Shots' quickly changed that. Each member does a sterling job on it, but our favourite? Nicola's "dreams that glitter" middle eight.
RC
'Love Machine' (released 2004. Chart peak: No. 2)
The group make little secret that it's one of their least favourite singles, despite being one of their most recognisable. It's easy to see why - it's annoyingly catchy and the accompanying video is heavy on the fake tan - but they somehow managed to pull the whole thing off.
RC
'Untouchable' (released 2009. Chart peak: No. 11)
Despite being Girls Aloud's first and only single to miss out on a Top 10 placing, 'Untouchable' remains a wistful electronic serenade that gets better and better with repeated listens. Many Facebook campaigns have tried to get it that Top 10 spot, so with the girls' imminent return, maybe now is as good a time as ever?
LC
What is your favourite Girls Aloud single? Leave your comments in the box below: