Britain's Got Talent
judge
Amanda Holden
and cricketer Phil Tufnell are among the celebrities who have recorded messages for 'talking' waste bins.
A total of 25 bins will be installed in London next month as part of Keep Britain Tidy's 'Love Where You Live' campaign, with further bins planned for Liverpool.
The bins will 'talk' when litter is placed in them, with Tufnell shouting: "Howzat!"
Other sound effects match the bins' locations. For example, the bin which will be located in Covent Garden features sound effects from the opera, while one in Liverpool will sing a specially re-recorded version of 'Thank You Very Much' by comedy trio The Scaffold.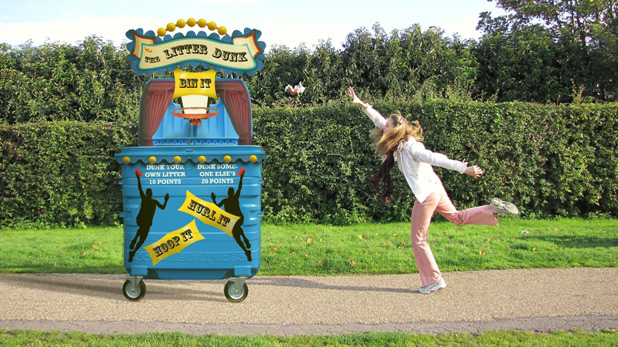 A 'Loop the Litter' bin has also been designed which allows passers-by to 'slam dunk' their rubbish through a basketball-style hoop.
The X Factor
's voiceover artist Peter Dickson, comedian Gina Yashere and rugby player Kenny Logan have also contributed sound bites to the project, which is supported by arts organisation Sing London and Liverpool City Council.
The rubbish bins will stay in London for two months, when they will then be taken on tour around the country, returning to the capital in summer 2012 for the Olympics.
Keep Britain Tidy encouraged soap fans to 'report' characters who did not use litter bins
as part of its 'Soapland Litter Watch' campaign earlier this year.
> Man rescued from inside recycling bin
Listen to the original version of 'Thank You Very Much' by The Scaffold below: