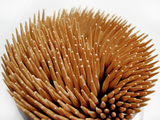 A manufacturer in Athens, GA has been left puzzled after nearly $3,000 (approximately £1,909) worth of toothpicks were stolen from their premises.
Police told the
Athens Banner Herald
that six cases of toothpicks went missing from Armond's Manufacturing Company Inc. in late May, and another seven cases disappeared on June 2.
Each case contained 288 packages of 100
toothpicks
, which brings the total number of stolen items to 374,400.
Officers told the paper that neither burglary showed signs of forced entry, suggesting that the robbery was an inside job or the work of a former employee who had held on to a key.
Two Armond's employees told the owner they were at a local fleamarket the weekend of the heist and saw a man walking around selling containers of what appeared to be Armond's green 'MicroPicks', according to police.
In addition to the MicroPicks, the thieves also stole cases of white 'ProPicks', police said.
The investigation is still ongoing.