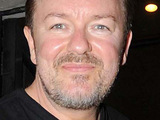 Ricky Gervais
has insisted that he is a better Christian than many people who supposedly practise the religion.
Writing for
The Wall Street Journal
, the
self-described atheist
revealed that while he does not believe that Jesus is the son of God, he still subscribes to the teachings of Christianity.
"I am of course not a good Christian in the sense that I believe that Jesus was half man, half God, but I do believe I am a good Christian compared to a lot of Christians," he explained. "It's not that I don't believe that the teachings of Jesus wouldn't make this a better world if they were followed. It's just that they are rarely followed."
He went on to say that while the Christian faith is meant to be one of tolerance and kindness, many devout followers often become hateful and close-minded because of the teachings of the Bible.
"Jesus was a man. (And if you forget all that rubbish about being half God, and believe the non-supernatural acts accredited to him, he was a man whose wise words many other men would still follow.) His message was usually one of forgiveness and kindness," he said.
"These are wonderful virtues but I have seen them discarded by many so-called God-fearers when it suits them. They cherry pick from their 'rulebook' basically. I have seen such cruelty and prejudice performed in the name of Christianity (and many other religions for that matter) that it makes me wonder if there has been a bit too much selective reading and reinterpretation of the doctrines."
He added: "God or not, if I could change one thing for a better world, it would be for all mankind to adhere to this little gem - 'Let he who is without sin cast the first stone'. I assure you, no more stones would ever be thrown."
Gervais recently
defended jokes he made at this year's Golden Globe Awards
, insisting that they were not meant to be offensive.