6
Showbiz News
Kate Middleton wedding dress revealed
Kate Middleton
's much-anticipated wedding dress has been revealed.
The 29-year-old stepped out at Westminster Abbey wearing an ivory and white satin gazar Sarah Burton for Alexander McQueen dress complete with tiara and train.
Middleton reportedly worked closely with Burton on the lace applique design and requested that the dress combined tradition and modernity. The lace was hand-engineered by the Royal School of Needlework.
She wore a veil of silk tulle with a trim of hand-embroidered flowers and a Cartier tiara, personally lent to her by the Queen. She also wore diamond-set oak leaf earrings made by Pimlico jewellers Robinson Pelham especially to echo her headpiece.
The earrings were commissioned by Middleton's parents Michael and Carole as a wedding present.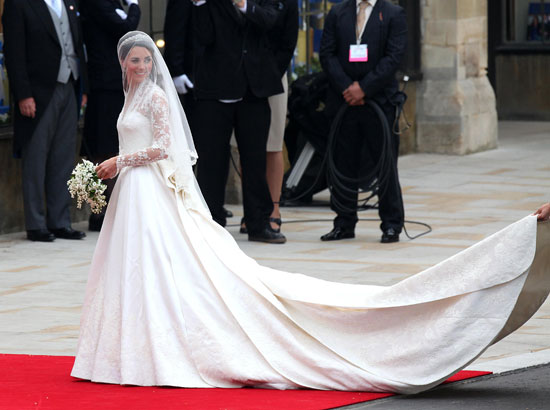 Some ITV commentators compared Middleton to Princess Grace of Monaco as she walked down the aisle on her father Michael's arm followed by her sister Pippa, four bridesmaids and two page boys.
She carried a bouquet of lily-of-the-valleys, sweet william, hyacinths, ivy and myrtle.
> Live Blog: Royal wedding highlights
> Prince William marries Kate Middleton
> Live Photos: The royal wedding
> Poll Result: Are you excited about the royal wedding?
> Video: Celebrities reveal royal wedding plans
> The royal wedding in numbers
> Read our full royal wedding coverage