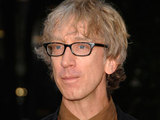 Andy Dick
has reportedly been arrested in Southern California.
According to
The AP
, the comedian was taken into custody on Monday night for being drunk and disorderly.
The former
News Radio
actor was arrested at a restaurant in Temecula and booked for investigation of disorderly conduct involving alcohol and drugs.
Dick was released after he posted a $500 (£303) bail. He has not commented on the investigation.
The performer was
arrested last year on two felony counts of sexual abuse
.
In 2008, Dick was
charged with suspicion of sexual battery and drug possession
.
The
Sober House
star
urged the public to "reserve judgement" about him
following his 2010 arrest.
Dick recently appeared on NBC's
Community
and made a guest appearance last year on
CSI: Crime Scene Investigation
.