0
Showbiz News
Women slam "sexist" Brownlow fashion pod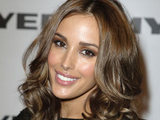 Australian sporting event the Brownlow Medal has been criticised for treating female celebrity guests like chickens on a "rotisserie".
The introduction of a "fashion pod" at Monday night's ceremony, a revolving platform designed to display arriving WAGs and their gowns, was labelled as a "sexist" gimmick by Sam Stynes, wife of Melbourne Football Club president Jim.
Sam told the
Herald Sun
: "How do the WAGs stand a chance when asked to display themselves on a giant lazy Susan? If that's the way we as a society find it acceptable to continue to position and treat women, the WAGs may as well resort to wearing gowns that reveal far too much flesh, have G-strings incorporated and boobs way out on display.
"[It] did nothing but further objectify the WAGs and undo any good work that has been achieved to clean up the sexist pressures [they] have faced."
Victorian Women's Trust policy officer Sarah Capper added: "It reduces the partners to comparisons on a yum cha menu."
A Seven Network spokesperson has now defended the display turntable, saying: "Viewers have said they wanted to see more of the outfits and that is where the fashion pod idea came from. It was an innovative way of showcasing the stunning frocks and fashion."
Taylor Wilson - partner of Brownlow award winner Dan Swan - reportedly refused to get up on the pod, saying: "There is no way I am getting on there. I don't have a contract with the Brownlow to stand up and fall over."
Hawthorne footballer Shaun Burgoyne's wife Amy
revealed last week
that some of the sportsmen's partners find the Brownlow Medal red carpet very "stressful", while a number of pregnant WAGs admitted that they
got "nervous"
about looking good at the event.
> Rachael Finch appears on Brownlow red carpet without engagement ring
> Jesinta Campbell stood up on Brownlow date