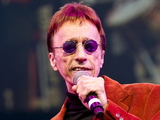 Robin Gibb
's weekend surgery was to remove a potentially life-threatening blood clot, a report has alleged.
The Australian
claims that doctors found a "dangerous blood clot" and needed to act on it as soon as possible.
The Bee Gees star is recovering from an intestinal operation, with his publicist confirming yesterday that
Gibb had pulled out of a number of shows
.
Meanwhile, his attendance at the
premiere of his classical score The Titanic Requiem
on April 10 is still in doubt.
Last November, the 61-year-old confirmed he had been
diagnosed with liver cancer
, shortly after reports he had
cancelled a meeting
with British Prime Minister David Cameron due to illness.
However, Gibb revealed earlier this month that he is
in remission from the disease
, after
making his stage comeback
in February.
His current condition has not yet been confirmed.
> Robin Gibb: 'Cancer is payback for Bee Gees success'