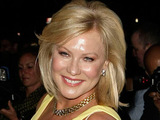 Kerri-Anne Kennerley
has responded to suggestions that she is not taking
her breast cancer diagnosis
seriously enough.
The Australian TV personality was questioned on
Today Tonight
over why she had decided to delay surgery until after this weekend's season finale of
Dancing with the Stars
, on which she was a contestant.
Kennerley said: "If my surgeon had said [so], I'd be in at 4 o'clock today, I'd be there. I do take advice, but there is a few days' flexibility on this. And you know, who doesn't want to dance with Carmelo [Pizzino]?
"I'm taking it so seriously. Within virtually seven days, I've done everything that's appropriate. I made sure I got the best advice as quickly as possible. I've had the right tests a couple of times over, the right biopsies. [I've] booked in everything. I'm not mucking around with this. I don't muck around."
Kennerley continued: "This is serious and anybody who would even vaguely suggest I won't take it seriously is probably nuts... I won't have anybody tell me how I should think, how I should act. I will do it the way I want to."
She added that she was still in shock two weeks after her diagnosis and compared the news to "being in a mack truck [and] hitting a wall at 180kph".
Kennerley also argued that she is "not unique" in her predicament, saying: "This and what I have is a very well-travelled path. People listening to this right now are enduring, have endured it or are about to endure it... I've got a lot more things to do and a lot more people to talk to but, you know, we'll get on with it."
Watch Kerri-Anne Kennerley's appearance on
Today Tonight
below: