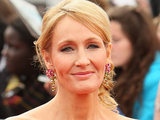 JK Rowling
has revealed she turned down the opportunity to go on a space shuttle trip.
The
Harry Potter
author, whose new book
The Casual Vacancy
was released last week, told fans that the trip had been offered for the cost of £2 million ($1.24m).
Speaking at an event at London's Southbank Centre, Rowling said: "I was offered a seat. For a mere £2 million I could have been on the shuttle, but I turned it down."
Rowling recently admitted she is tempted by the thought of writing a 'director's cut' version of the
Harry Potter
novels, allowing her more time to improve on the original seven books.
> JK Rowling: 'I won't read Fifty Shades of Grey'
> JK Rowling building £150,000 'Harry Potter' treehouses - picture