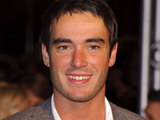 Jack Tweed
has
pleaded guilty to common assault outside an Essex nightclub
on January 3.
Jade Goody's widower, 24, told Redbridge Magistrates' Court that he punched Tom Grantham in the head outside Deuces Bar and Lounge because he feared he might burn down the venue.
Co-defendant Mark Wright has
denied using threatening behaviour
towards builder Grantham and his trial is expected to end today.
Ronald Jaffa, defending Tweed, said that his client heard Grantham, 21, or one of his friends threaten to set the bar on fire after an argument, which worried him because an arson attack destroyed the club last October,
Metro
reports.
"He took it seriously because of what had happened," Jaffa said. "Jack is known in the press and people do, from time to time, say things to him that are not complimentary and often it is water off a duck's back.
"But this time, Tom raised his arms to Mark Wright so Jack hit him and then tried to kick him."
He added that Wright and Tweed had both invested a "substantial amount of money" in Deuces, the club which features heavily in ITV2 show
The Only Way Is Essex
.
Tweed's brother Lewis, 21, who also kicked and punched Grantham, pleaded guilty to common assault. Both brothers, of Buckhurst Hill, were released on unconditional bail and will be sentenced on August 16.
Earlier this year, it was reported that
Wright had evicted Tweed
from the flat that they previously shared.