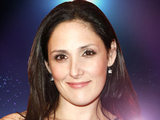 Ricki Lake
has revealed that her intense
Dancing with the Stars
training is causing her to lose "a lot of weight".
The talkshow host previously admitted that
she has gained "about 15 pounds"
since meeting
fiancé Christian Evans
last year, but has now insisted that working out with professional partner Derek Hough has helped her slim down.
Lake told
Us Weekly
: "Every time I show up for work, I'm like 'I got smaller', but I haven't weighed myself."
Lake also teased that dropping excess weight has allowed her to broaden her wardrobe.
"Oh my God, I put on my jeans - my size six jeans! They were too tight to put on a month ago, and they're now falling off. So, that doesn't lie," she commented.
Lake recently claimed to have
shed 8.5 inches from her body
since joining
Dancing with the Stars
.
Dancing with the Stars
airs tonight and Tuesday at 8/7c on ABC.
> Ricki Lake: 'David Arquette will be my Dancing with the Stars competition'
> Ricki Lake "inspired" by Kirstie Alley's appearance on Dancing with the Stars
Watch Ricki Lake and Derek Hough's first
Dancing with the Stars
performance below: