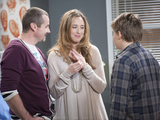 Having excitedly invited his mother to attend the ultrasound, Toadie is disappointed when Sonya asks if they can just share this moment alone. However, Toadie is seriously disappointed when a worried Sonya requests that Callum doesn't come either.
Fearing bad news, Sonya starts to panic just prior to the scan, but Callum - having been encouraged by Rani to ignore Sonya's warnings - arrives and successfully allays her fears. United, the family is thrilled to see the baby for the first time. But when they're unsure of what surname to give it, they realise they should all share a family name. Will they be Mitchells or Rebecchis?
Meanwhile, disappointed that Vanessa's not keen to continue their living arrangements as his tenant, Lucas realises that buying the Ramsay house might have been a bad idea. However, when Susan points out the positives in living with Lucas, Vanessa begins to reconsider.
At the same time, Lucas attends a Gamblers Anonymous meeting and reveals the real reason he made the offer - he's falling for Vanessa. Surprised when Vanessa later reveals she's now open to the idea, Lucas decides to do it - even though it's clear Vanessa doesn't feel the same way about him. Is Lucas setting himself up for inevitable heartbreak?
Elsewhere, determined to get Susan out of the editor's chair, Paul uses an unwitting Summer to convince Susan to go to an international conference. With no-one standing in his way, how will Paul get the position back for good?