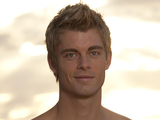 Home and Away
's
Luke Mitchell
has disclosed that his character Romeo Smith's steroid abuse is to have immediate consequences.
Mitchell told
TV Week
that his alter ego, who started taking drugs in an attempt to heal his knee injury, will collapse at the beach after training "too hard".
"Romeo is in a fragile state," he further explained. "He feels a sense of being alone and he's just not thinking straight.
"Without him realising it, the steroids have started to have an effect on him and he's been snapping at a few people."
While Romeo recovers in hospital, he shares "a moment" with ex-wife Indi (Samara Weaving) after confessing his love to her.
"Romeo and Indi have had a few obstacles in their marriage. I think they both want to reunite, but the timing has to be right and both of them have to be willing to give it another shot," the actor added.
Home and Away
airs these scenes next week on Network Seven in Australia and in November on Channel 5 in the UK.