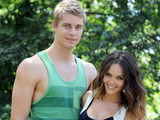 Romeo doesn't take the news that Ruby is pregnant too well, but commits to doing the right thing by supporting her. Alf clocks on that Romeo isn't too over the moon, and suggests that the pregnancy seems too convenient. However, Roo shuts down his suspicions, telling him to stay out of it.
In the meantime, Indi decides that she needs to tell Romeo that she's still in love with him, but Marilyn accidentally lets slip that Ruby is pregnant with Romeo's baby. Indi is left heartbroken and unsure about what to do.
Meanwhile, Bianca is refusing to see her baby, which unsettles Heath. Sid is also concerned, and when he realises that Bianca believes her baby died and everyone is lying to her, he diagnoses her with post-natal psychosis, warning Heath to tread lightly until she is healed. But when Heath tries to explain to her that the baby is fine and that no-one is lying, Bianca loses it, kicking him out.
Elsewhere, pangs of jealousy hit Dex as his concerns about April's feelings towards Heath increase. He notices that April is spending a lot of time defending Heath, being there for him in his time of need. When Dex attempts to get closer to her, she shuts him down, leaving him even more insecure.