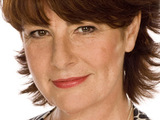 Karen is prepping for her Botox party, but is caught on the hop by snooty neighbour Cynthia, who invites herself along. Karen is alarmed by Daniel's lack of preparation for his presentation and demands that he doesn't let her down. A desperate Karen wants Daniel to bring baby Joe with him, thinking that a dishy doctor with a baby will be irresistible to her friends and his potential clients - but he refuses.
At the party, Cynthia's snootiness winds up Karen, so she spikes her drink. Fuelled by Karen's vodka, Cynthia flirts relentlessly with Daniel. When Daniel performs a mock Botox demonstration, Cynthia volunteers herself and unbeknownst to Daniel, Karen swaps his cosmetic pen for permanent marker. Cynthia will have a shock in the morning!
Meanwhile, Kevin discovers that his patient Hugh Devlin did not qualify for the lupus trial. Mandy and Freya invite him to drown his sorrows at The Icon, where he meets Mandy's friend Michaela Everett. They get on like a house on fire as Kevin assumes she too is gay and so doesn't try his usual chat up lines. When Kevin realises that Michaela is straight and likes him, he thinks all his Christmases have come at once!
Elsewhere, Rob is on the case when a fading rock star is sent a nail bomb just as he's about to embark on a comeback tour.