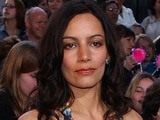 Holby City
newcomer
Sasha Behar
has revealed that her character Alex Broadhurst will be very different to her classic
Coronation Street
role as 'Mad' Maya Sharma.
The actress, who portrayed Maya between 2003 and 2004, appears on
Holby
from next week. Viewers will see new consultant Alex arrive at the hospital as part of a storyline for established regular Michael Spence (Hari Dhillon).
Behar told
What's On TV
of Alex's personality: "She's a high-flyer, who's proved everything she needs to prove and is just there to do the best job she can. She certainly hasn't come in to put anyone's nose out of joint.
"Alex and Michael are on a collision course the moment they meet. She doesn't know that Michael thinks he's already the boss, and he doesn't know she's been told to apply for the job as clinical lead of AAU. Hanssen's got them both as puppets on a string."
Asked whether Alex could be unhinged like Maya, she replied: "There must be something in my make-up - I seem to bring a little bit of that with me, wherever I go. But, as much as it's hard to live Maya down, Alex goes in a very different direction."
Alex will be on
Holby City
for a six-episode stint before leaving the hospital.
Behar added: "Her exit [is] to do with something that's revealed about why she came to Holby in the first place."
Holby City
continues on Tuesday at 8pm on BBC One.
> Coronation Street Mad Maya lands Holby City role
> Read all the latest Holby City news
> Read all the latest Coronation Street news