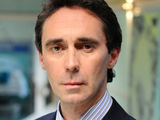 Hanssen has meetings all day with the university vice-chancellor and the Board.
When Hanssen and the vice-chancellor disagree over whether Dan or Malick should be considered for the position of clinical skills teacher, Hanssen realises that he might not be completely in control of Holby's future.
Meanwhile, Elliot is faced with a dilemma when he is told that he is not allowed to operate on a critically ill patient from the Ukraine. Refusing to bow to rules and regulations, Elliot goes ahead with a risky surgery in a bid to save the patient's life.
Elsewhere, Sasha is forced to reveal that he has been moonlighting in Holbycare when one of his patients turns up unexpectedly on Keller.