EastEnders
schemer Michael Moon flies into a rage later this month as Janine Butcher tells him that she is cancelling their wedding.
Janine becomes disheartened in the coming days when she hears that her family may not be able to make it to the ceremony. To make matters worse, a persistent Jean is continuing to confront her about Michael (
Steve John Shepherd
), asking how Janine can trust a man who has stolen from his own child, Tommy.
Later, heavily-pregnant Janine panics as she collapses in pain. When she heads out to see the doctor, she is advised that her wedding may be coming at the wrong time as such high levels of stress can be dangerous for the baby.
Soon afterwards, Janine breaks the news to Michael that she has decided to cancel the wedding. Michael is enraged by the news and immediately blames Jean, storming round to The Vic for a showdown with her.
As the row escalates, Ray and Jack are forced to step in and throw a distressed Michael out of The Vic and into the gutter - leaving him at rock bottom. How can Michael get the wedding plans back on track?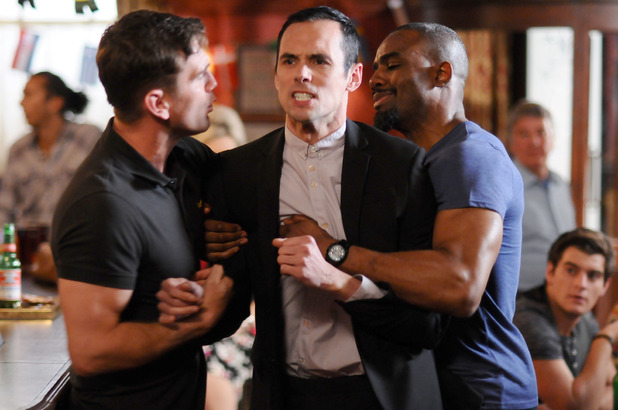 EastEnders
airs these scenes on Tuesday, June 19 at 7pm on BBC One.
> 'EastEnders' Diane, Ricky Butcher back for Janine wedding
> 'EastEnders' Janine in wedding day drama
> 'EastEnders' Gillian Wright: 'Jean will fight back'
> 'EastEnders' lines up Kat Moon affair mystery
> 'EastEnders' Kat Moon affair - the suspects
> Read more 'EastEnders' spoilers and news
Over on
Coronation Street
, Eva Price gets dangerously close to the truth about Sunita and Karl's affair.
Eva (Catherine Tyldesley) becomes increasingly irritated by Sunita (Shobna Gulati) in the coming days as the barmaid continues to stay at The Rovers following the breakdown of her relationship with Dev.
Karl (John Michie) isn't pleased by Sunita's presence either, shocked by how she is accepting support from Stella when they have been betraying her with their secret fling. Amid the tension, Sunita spots a new closeness between Karl and Stella and feels hurt by Karl's treatment of her.
Later, Eva overhears an angry Sunita telling Karl that she's not going to keep his grubby little secrets anymore. Entering the back room, Eva finds Karl and Sunita flustered and spots some bank notes sticking out of Karl's pocket. Puzzled by what she's just witnessed, is Eva on to Karl and Sunita?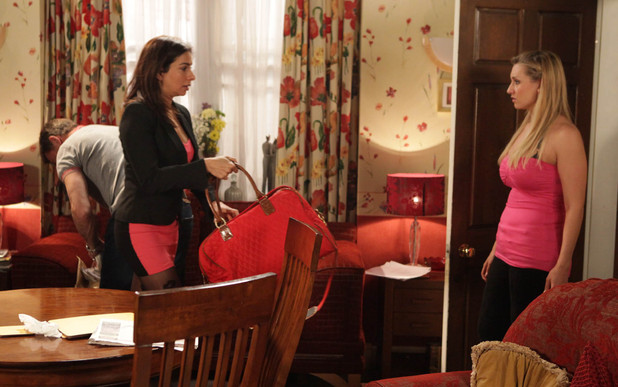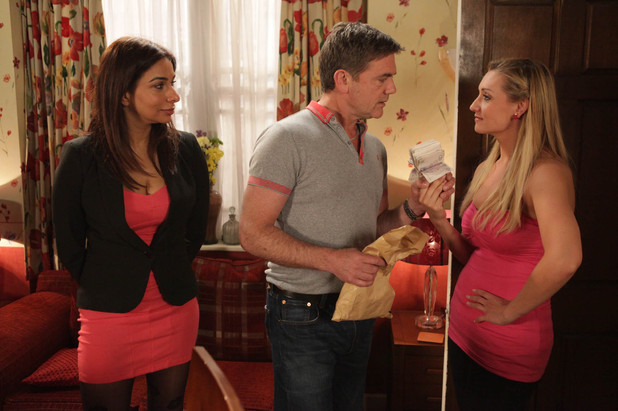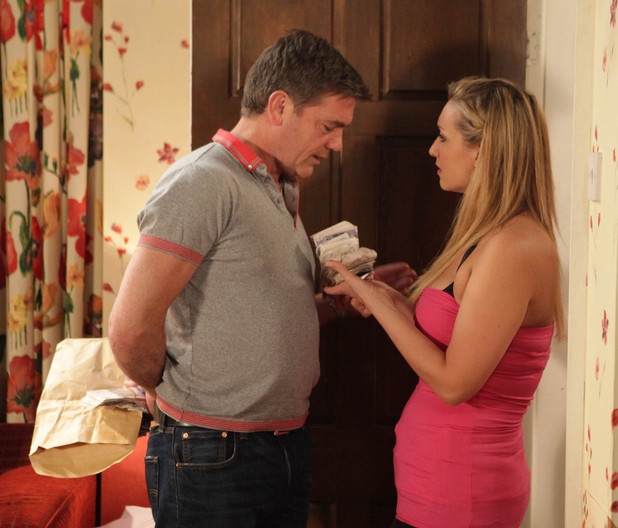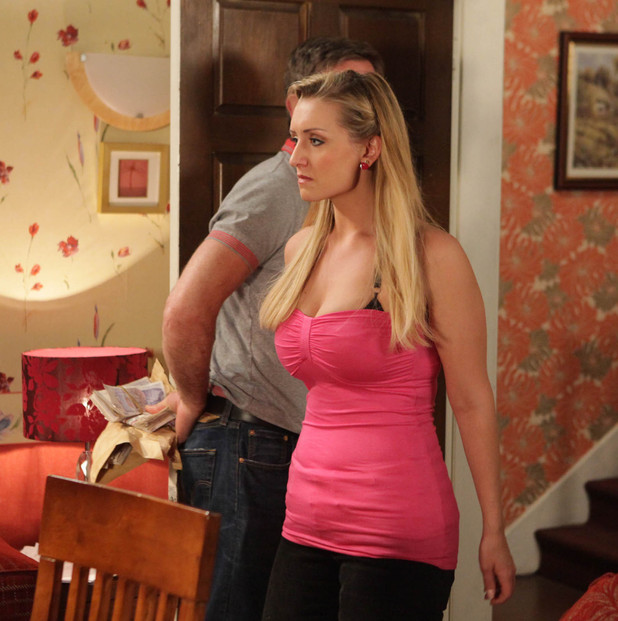 Coronation Street
airs these scenes on Monday, June 18 at 7.30pm on ITV1.
> Corrie's Shobna Gulati slams 'misogynistic' Sunita affair reaction
> Read more 'Coronation Street' spoilers and news
Coming up in
Emmerdale
, Chas Dingle and Cameron Murray are left panicking when Gennie Walker finds out about their steamy affair.
The latest twist begins as Chas (Lucy Pargeter) plays with fire by suggesting that Cameron (Dominic Power) should meet her at Gennie's place as nobody will be in. However, as the pair passionately kiss in the house, the front door suddenly opens and Gennie catches them red-handed!
Gennie (Sian Reese-Williams) is stunned by what she sees, but there's no time for a confrontation as she explains that Debbie is on her way over. Mid-conversation, Debbie arrives and they all cover up what has happened. Chas and Cameron then make a quick exit, frantically trying to pull themselves together.
Later, Gennie rebukes Chas for her betrayal of Debbie, but is shocked when she proudly explains that it's more than a fling - they are in love. Gennie is disgusted, but when Chas begs her to cover for them, what will she do?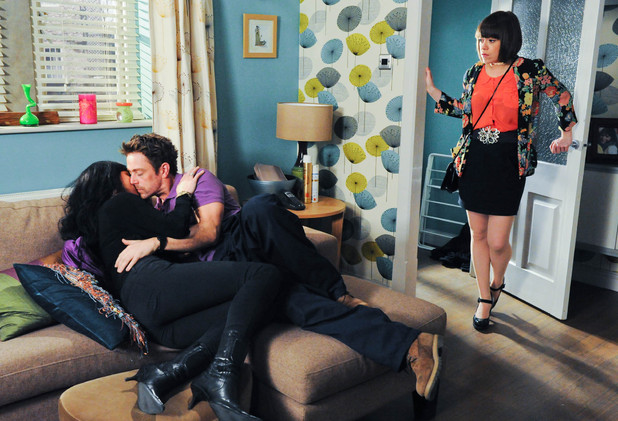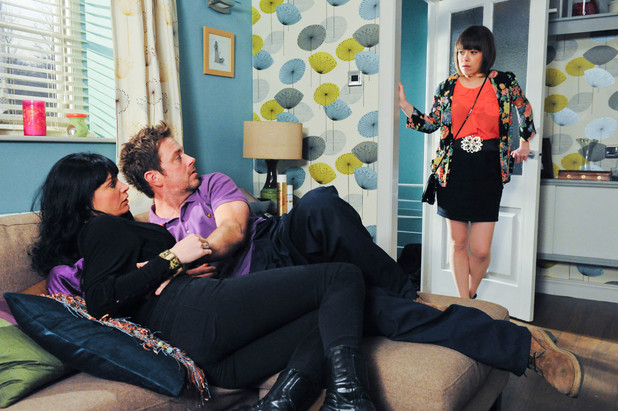 Emmerdale
airs these scenes on Friday, June 22 at 7pm on ITV1.
> 'Emmerdale' Dominic Power: 'Fans positive about Cameron affair'
> Read more 'Emmerdale' spoilers and news
Meanwhile,
Hollyoaks
fans will see more troubles ahead for Ste and Doug as they consider taking their relationship to the next level.
Doug (PJ Brennan) is nervous about moving things along with Ste (Kieron Richardson) because he feels inadequate - a situation which doesn't become any easier when Brendan (Emmett Scanlan) continues to make his presence felt.
As the pair prepare for romance, Ally (Dan O'Connor) doesn't make the situation any easier when he assumes that a picnic at the flat has been arranged for him by Amy - which soon causes an embarrassing situation for all concerned.
It's not long before Ally is standing in the living room stark naked after mistaking Ste and Doug for Amy in the bedroom. Ste and Doug then come out brandishing weapons, thinking they have an intruder!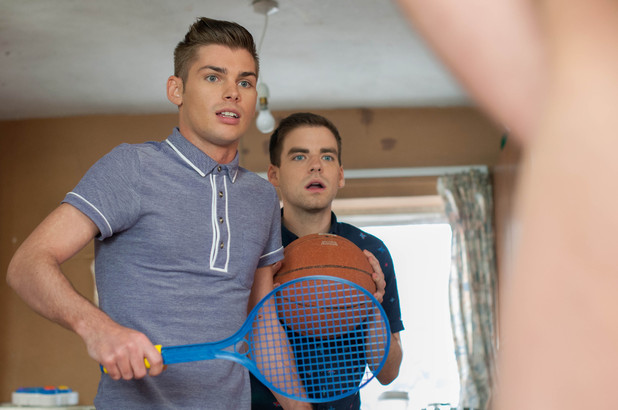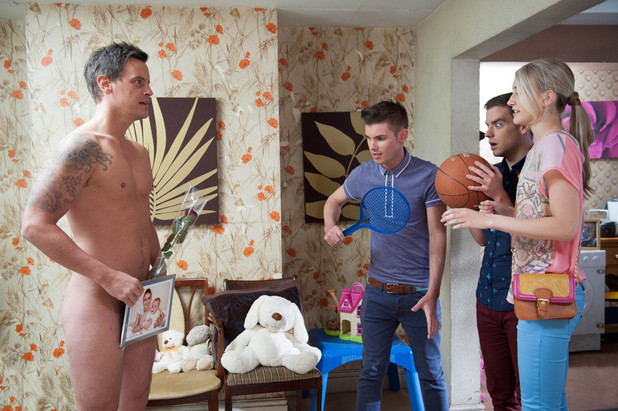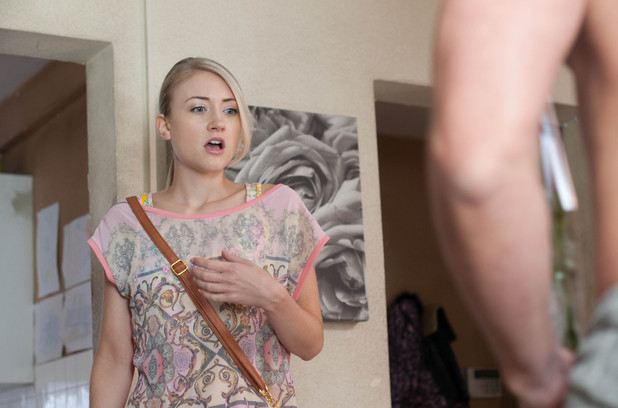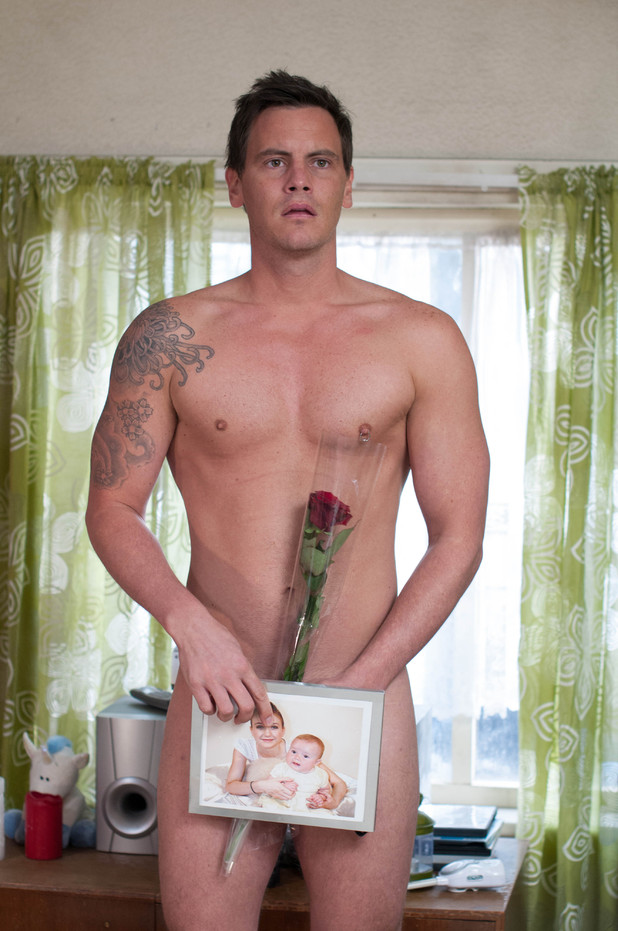 If that wasn't bad enough, another attempt for Ste and Doug to enjoy some alone time ends with the pair emerging from the bedroom horrified to find Brendan in the lounge.
Doug is keen to stand up to Brendan, but with the bad boy's feelings for Ste still strong, is there any way of getting him to back off?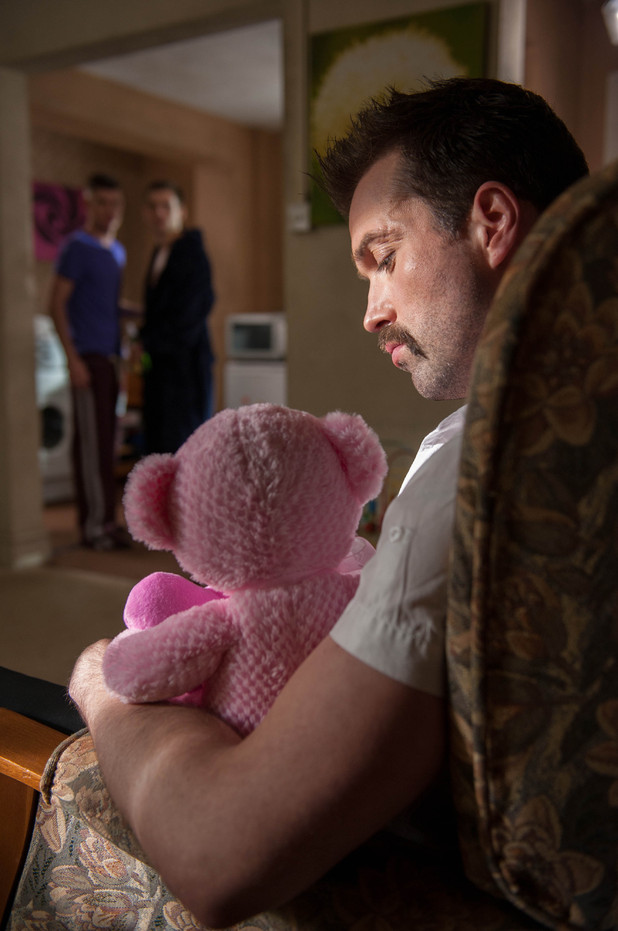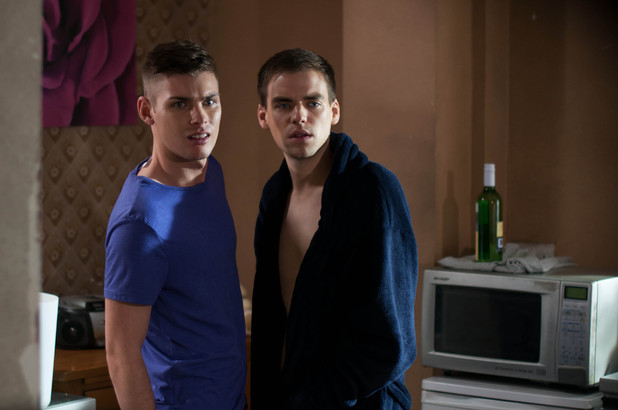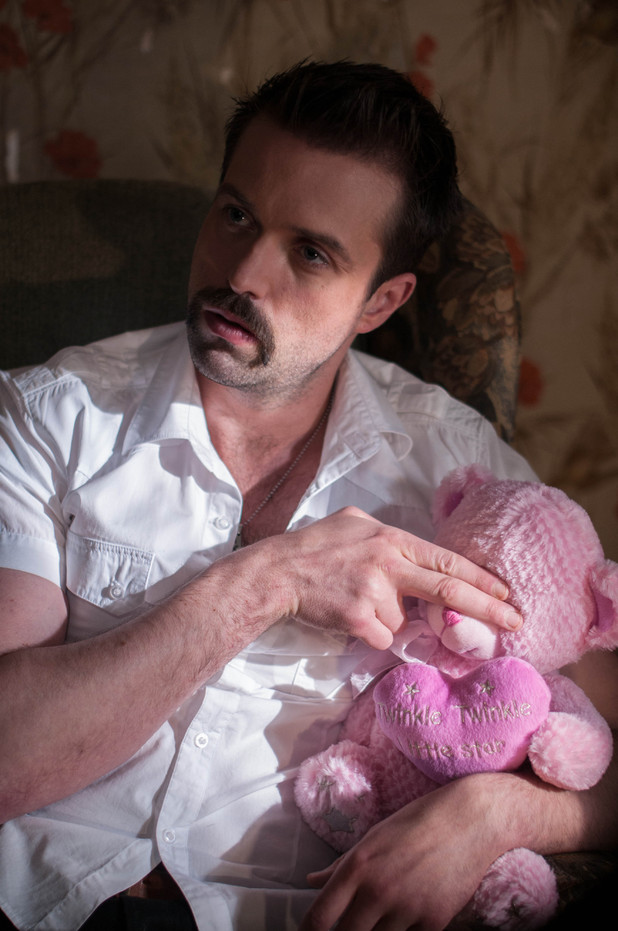 Hollyoaks
airs these scenes on Monday, June 18 and Friday, June 22 at 6.30pm on Channel 4.
> 'Hollyoaks' Dan O'Connor promises big Ally changes
> 'Hollyoaks' Neil Newbon: 'Walker plot is so exciting'
> 'Hollyoaks' Emmett Scanlan: 'Darkness makes Brendan interesting'
> Read more 'Hollyoaks' spoilers and news
Over on
Doctors
, Freya Wilson carries out a heroic act as she finds herself caught up in a dramatic fire incident.
Freya (Lu Corfield) is left devastated later this month when she is forced to resign from The Mill for jeopardising the important drugs trial, especially as Kevin (Simon Rivers) has failed to support her in his discussions with their new boss Howard over the situation.
After handing in her notice, Freya is keen to confront Kevin and heads off to the home of his new girlfriend Michaela. However, when she arrives, she's shocked to see that the house is on fire after Michaela clumsily knocked a lamp over onto a curtain.
Freya immediately rushes in and gets Michaela safely out, with little regard for her own welfare.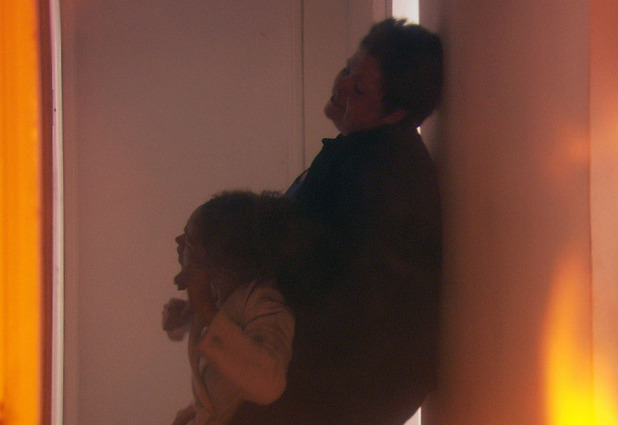 Soon afterwards, Freya goes back for an unconscious Kevin even though the blaze is escalating. However, just before she can get him to safety, the ceiling collapses and Freya shields Kevin with her body.
Both are soon rushed to hospital, where it doesn't look good for one of them…
Doctors
airs these scenes on Monday, June 18 at 1.45pm on BBC One.
> Read the full spoiler for the dramatic fire episode
> Read more 'Doctors' spoilers and news
Coronation Street
was the winner of our storyline poll last week as
38%
of you chose Simon's alcohol scare as the best plot.
EastEnders
came second with
35.6%
for Jay's proposal, while
Hollyoaks
was third with
14.8%
for Walker's return.
Emmerdale
claimed fourth with
8.9%
for Chas and Cameron's weekend away, while
Doctors
was fifth with
2.7%
for Freya's troubles at work.
Don't forget to vote in the poll below and let us know which story sounds best this week!