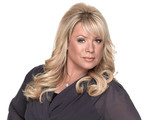 Phil and Sharon are desperate to track down John, Nina and Dennis. They head to John's house, and while his car is not there, they do manage to find Nina. She refuses to divulge any information, but Phil gets tough by dragging her into the car and forcing her to phone John on loudspeaker. In doing so, they successfully find out where John has taken Dennis. All three then speed off to the location in question.
When they find John, Nina tips him off early by shouting out to him. This advantage gives John the chance to speed off again, so Phil and Sharon are forced to follow in hot pursuit. Events take a terrifying turn when Dennis jumps out of John's car and runs across a busy road. Sharon rushes out and prevents him from being hit by an oncoming vehicle just in time, while Phil deals with John by punching him.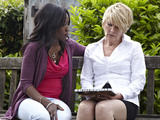 Meanwhile, back on the Square, Shirley tells Denise how significant the photo frame is. Shirley considers going to the police with the discovery, but soon decides to catch the killer herself. Doing some detective work, Shirley asks Kim and Cora how the photo frame ended up at the B&B. Tracing it to Jean's charity shop delivery, Shirley asks her for answers and is appalled when Jean explains that the frame was in a bag that Phil gave to her.
Soon afterwards, Shirley listens to a heartfelt voicemail from Phil, who apologises for taking so long and announces how much he loves her. Phil's message says that he wants to marry Shirley straight away, but she can sense the desperation in his voice. Returning home, Shirley holds up the photo frame in front of Ben and declares that she knows Phil killed Heather…
Elsewhere, Lola worries that Jay will go running back to Abi when she returns from Costa Rica, while Max tries to build bridges between the Beales - but his efforts backfire when Lucy tells Ian that he can drop dead as far as she's concerned.