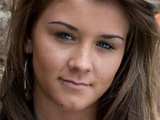 Coronation Street
's Sophie Webster will have a bitter clash with Amber Kalirai in a forthcoming episode, a report has claimed.
The pair, played by
Brooke Vincent
and Nikki Patel, have become close in recent months but will fall out in the aftermath of Sophie's ill-fated wedding day, according to the
Daily Star
.
Sophie's friends and family gather to watch her tie the knot with Sian Powers (Sacha Parkinson) next month, but reports suggest that she doesn't go through with the ceremony as she is confused about her feelings for Amber.
When her relationship with Sian hits the rocks, it is thought that Sophie blames Amber for everything - unhappy that she messed with her head by kissing her on a recent night out.
The newspaper claims that Sophie soon ends up fighting with Amber on the street, before shouting that the shop girl is a secret lesbian in front of shocked residents.
A
Coronation Street
source commented: "[Amber] can't believe Sophie's dropped her in it. Amber is straight - she's not confused like Sophie's claiming. It creates a massive headache for her because her dad is far from happy."
Coronation Street
's cast and crew filmed Sophie and Sian's wedding day scenes on location in Hale, Cheshire earlier this month.
Read more news and rumors about this storyline:-> Coronation Street wedding plot is exciting, says Sacha Parkinson> Coronation Street films dramatic Sophie, Sian wedding scenes> Coronation Street Sophie, Sian wedding twist revealed?> Coronation Street's Sacha Parkinson fans throw leaving party> Read more Coronation Street spoilers and news
Browse through a gallery of pictures from Sophie and Sian's wedding day below: