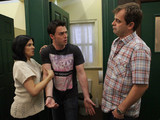 Kylie is furious with Ryan for offering her drugs and storms off home. Ryan is unfazed, but David is incensed when he hears what happened. Barging into Michelle's flat, David angrily explains that her son is a druggie.
An upset Michelle heads to the pub to confront Ryan, storming into the gents closely followed by Steve. As she peers over the cubicle door, Michelle is horrified to find Ryan snorting coke and drags him out. In the middle of a busy pub, Michelle screams at Ryan for taking drugs. But Ryan is high as a kite and takes no notice, so Michelle resorts to desperate measures to get his attention.
Meanwhile, Izzy assures Gary that she loves him with all her heart, but she'll understand if he meets someone else who can give him a family. Is this the end for the couple?
Elsewhere, Stella explains to Karl that she's consulted a solicitor and she wants him to sign over the pub and mortgage to her. When he tries to object, Stella furiously points out that he owes her big time for all the debts he ran up. Karl leaves a broken man.