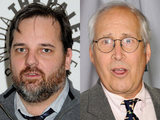 Chevy Chase has defended sending an expletive-laden voicemail to
Community
creator
Dan Harmon
.
Community
boss Harmon
played an angry message from Chase
at a comedy event last week after an alleged dispute, later
accusing the actor of being drunk when he made the call
.
Harmon has since
apologised to Chase
by admitting that releasing the message to the public was a "dumb, unclassy [and] inconsiderate" decision.
Chase appeared to defend his harsh criticism of Harmon when asked about the incident by
TMZ
.
"I think that was the wrong thing to say at the time... No, it was the right thing to say... at the time," the comic said.
Chase went on to insist that his personal issues with Harmon have "been handled" and he looks forward to returning to
Community
for a possible fourth season.
"We've got comedy to make," he said.
Community
executive producer Russ Krasnoff recently said
he's "pretty confident" that the sitcom will return
in the fall.
> Spies Like Us stars Dan Aykroyd and Chevy Chase reunite for film
> Rob Corddry, John Goodman to return to Community
Watch Chevy Chase defend his controversial voicemail below: