1
Cult News
'Once Upon a Time': 'Heart of Darkness' in pictures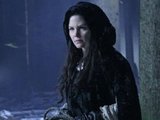 Last week, Emma appeared to be getting closer to finding out what happened with Kathryn only to find that
Mary's fingerprints are all over the box with a human heart in
!
Next episode 'Heart of Darkness' picks up where the shock reveal ended - does the heart really belong to Kathryn? And how will Mary prove her innocence?
In the fairytale world, Prince Charming continues to search for Snow White, with the latter trying to assassinate the Evil Queen.
Check out photos of the next
Once Upon a Time
episode below.
Once Upon a Time
airs on Sunday at 8/7c on ABC.