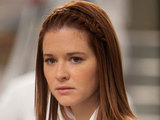 Grey's Anatomy
's executive producer Shonda Rhimes has teased that April (
Sarah Drew
) will have some funny storylines this season.
Rhimes explained that April's
new job as Chief Resident
will cause conflict with the other characters.
"Watching April try to be in charge of Cristina and Alex and Jackson is a pretty impossible task, and it's made for comedy," Rhimes told
TV Line
.
"It's one of the funniest things we're working on this season."
Rhimes also repeated
her assertion that Drew's pregnancy will not be written into the show
, although she joked that her "fingers are crossed that April finally gets some" in the new season.
"We would have to de-virginise April really fast," she said. "Sarah's due in January or February so that would be a little extreme."
Rhimes has previously revealed that April
will discover that the Chief Resident role is "much more difficult"
than she anticipated.
Grey's Anatomy
will
return with a two-hour season premiere on September 22
on ABC.
> Grey's Anatomy star: 'Pregnancy story is tough'
> Read more Grey's Anatomy coverage
Watch a trailer for the new season of
Grey's Anatomy
below: